Eligibility for Admission
Persons who may be eligible to matriculate in any graduate program must:
Hold a Bachelors degree or higher, from a regionally accredited institution or from a non-regionally accredited institution with comparable curriculum and standards to those of Manhattanville College School of Education and present a minimum cumulative undergraduate grade point average of 3.00 (A=4.) In very limited cases, students with a minimum undergraduate cumulative GPA below 3.00 may be accepted provisionally, generally after a period of wait-listing. When necessary, a GPA will be calculated using Manhattanville College policy as specified in the College Catalog.
Submit a completed application form including a 2-3 page typewritten essay stating their philosophy of education
Submit official transcripts for ALL previous college coursework
Submit two strong professional recommendations
Complete the Graduate Record Examination (GRE) or equivalent, for those seeking NYS teacher certification.
Exhibit a commitment to teaching. An interview is not required, but is strongly recommended.
Submit proof of certification, for admission to programs in Special Education, Literacy, or Bilingual Education. Students may begin these programs provisionally when not yet certified, but will not be allowed to graduate until they are certified.
Complete Music audition and examination, for admission to programs in Music Education
Provide evidence of all required immunizations. All students, matriculated or not, born after 1957, taking 6 or more credits within a semester or session, are required by state law to provide proof of specified immunizations. Contact the Health Center to submit evidence or to obtain further information.
International students must demonstrate English language proficiency by achieving a score of 110 on the TOEFL IBT or a score of 8 on the IELTS or an equivalent exam result. International credentials will be evaluated under the guidelines used by NYS Education Department. A certified translation of international credentials and/or external evaluation of credentials must be submitted upon request.
Additional requirements for entrance into Education Leadership programs include:

a writing sample and
an interview with the program director.
Doctoral Admissions
For entrance into the Doctoral program, admissions requirements include all of the above and additionally:
At least three years of successful experience in education or other appropriate setting after completing the Bachelor's degree
A record of leadership as a teacher, leader, and/or manager. Two years of administrative experience are strongly preferred
Administrative certification. This may be achieved simultaneously with the doctoral degree.
A letter of nomination focusing on the applicant's commitment, determination, scholarly writing skills and communication skills, as well as research experience and/or potential
NOTE
Holders of F- or J-class visas are not eligible for admission into programs at off-campus locations.
Program Sequence and Length
All Masters-level students not previously certified who are matriculated into degree or certification programs must take the NYS ACADEMIC LITERACY SKILLS TEST (ALST) during their first full semester. Students who do not achieve a satisfactory score on the test will be required to complete the Graduate Education Writing Tutorial and may continue in the graduate program on a probationary basis. Students who fail twice will not be permitted to take further Education courses until they pass the exam.
Once students have passed the required entry-level coursework or its equivalent, including the NYS ALST and the Manhattanville Writing Assessment (see below), they enter intermediate level courses. These courses serve as foundations for capstone courses, which include seminars, practica and/or student teaching experiences.
Masters-level candidates have up to five years from the date of matriculation to complete their programs. A time extension, typically of one-to-two years, may be granted at the discretion of the Associate Dean for Graduate Programs. In such cases, additional Education courses may be required to update the student's program, as determined by the relevant department of the School of Education. Students will also have to meet any new or revised certification requirements imposed by NYSED.
Student or supervised teaching is a culminating experience, only undertaken when all coursework and all other requirements have been completed.
Doctoral candidates will take no more than three years to complete required coursework. Doctoral students can stay in the program for six years. Under exceptional circumstances and with approval from the Program Coordinator, doctoral students can stay a maximum of eight (8) years after they are officially admitted.
After successful defense of their dissertation proposals, all doctoral candidates are required to register for 2 credits of dissertation supervision every semester including summer, until they complete the program.
Additional Requirements for the Jump Start program
Before graduation and regular certification, Jump Start candidates must have completed all Masters degree and NYS certification requirements. Candidates who have not completed said requirements and are teaching under the internship certificate after they would normally have graduated and become certified are required to be mentored by the college and must pay a mentorship fee equivalent to one-credit of tuition. if they have not been mentored in the current academic year.
Jump Start students who do not or cannot complete their teaching placements or do not find a position will be required to join a traditional Masters program and follow the coursework and student teaching schedule, and meet the pre-requisites for student teaching, appropriate for that program. Such students must meet with the Office of Field Placement as soon as possible in their program.
Rate of Work
Nine (9) credits is considered full time attendance for Masters-level students.
During the foundational phase of the doctorate, six (6) credits will be full-time, and three
(3) credits will be half-time. During the dissertation phase of supervision, starting with
EDAD 8190, two (2) credits will be full-time, and one (1) credit will be half-time.
Academic Calendar
The academic calendar can be viewed at: http://mville.edu/academics/academic-services/office-registrar/academic-calendars
Credit Hour Policy
Manhattanville College complies with Federal (U.S. Department of Education) and Middle States Commission of Higher Education (MSCHE) regulations pertaining to degree requirements and credit hours. Manhattanville College undergraduate degrees require the successful completion of a minimum of 120 semester credit hours. The MFA degree in the School of Arts and Sciences is a 36 credit program. Master of Arts in Teaching and Masters of Professional Studies range from 35 to 49 credits, depending on the certificate or certificates that they may lead to. Advanced certificate programs leading to a college recommendation for certification, including the Professional Diploma in Education Leadership, range from 11 to 36 credits. The Master of Education Studies, not leading to certification, is a 30 credit program. The Doctor of Education program is a 59-credit program. All graduate programs in the School of Business are 36 credits, with the exception of the MS in Business Leadership, which is 39 credits.
Manhattanville's academic year is separated into fall, spring and summer semesters for traditional undergraduate programs offered by the School of Arts and Sciences. The Fall and Spring semester are fifteen weeks in length. Our accelerated undergraduate degree completion program, offered through the Manhattanville School of Business, works on seven week semesters. SOE semesters are separated into fall, winter, spring, and summer. Classes run for fifteen weeks in the Fall and Spring, and begin a week after the School of Arts and Sciences commence in the Fall semester. Summer classes generally run between five and ten weeks. The Winter semester runs three weeks. All formats, including traditional semester-length classes and the accelerated and summer formats, must comply with the university credit hour policy.
All new courses are vetted by the appropriate curriculum committees (School of Arts and Sciences, School of Education, School of Business) to ensure requirements meet with credit hour regulations. In addition, existing courses are reviewed periodically by the School Deans, Office of the Registrar, and assessment committees to ensure that the work load is consistent with the potential credits to be earned.
Background
The U.S. Department of Education, at 34 CFR Section 600.2, defines "credit hour" as:
"…an amount of work represented in intended learning outcomes and verified by evidence of student achievement that is an institutionally established equivalency that reasonably approximates not less than:
(1) one hour of classroom or direct faculty instruction and a minimum of two hours of out-of-class student work each week for approximately fifteen weeks for one semester or trimester hour of credit, or ten to twelve weeks for one quarter hour of credit, or the equivalent amount of work over a different amount of time; or,
(2) at least an equivalent amount of work as required in paragraph (1) of this definition for other academic activities as established by the institution, including laboratory work, internships, practica, studio work, and other academic work leading to the award of credit hours."
The Middle States Commission on Higher Education, in its Credit Hour Policy, effective August 23, 2013, requires institutions to verify compliance with Credit Hour regulations.
Additional Program Requirements for Certification
Manhattanville College requires a course in Child or Adolescent Developmental Psychology as appropriate, as a pre-requisite for completion of most Masters degrees and Advanced Certification programs. Students will not be allowed to student teach if they have not met this requirement. SSE 2025 or EDU 5344 will satisfy the requirement, but cannot be used as an elective in ANY degree or program leading to certification.
Policies, Procedures & Examinations
The College provides, insofar as is consistent with New York State requirements, flexible and individualized programs, and carefully selected placements for student teaching. Advisement is critical for a successful experience; therefore, the School of Education requires all students to meet with an advisor on a regular basis. Students are responsible for meeting all relevant deadlines.
Advising and Registration
All graduate registrations must be approved by a member of the Graduate Advising Office or the Doctoral Program Coordinator, by signature or electronically. Registration for all student teaching courses must be approved by the Office of Field Placement. Upon matriculation, each student will be assigned an appropriate faculty advisor and informed of that assignment in Fall and Spring. Students are advised to register in a timely fashion for those courses they know they must take in a given semester. Graduate Education courses are closed with 25 students; however, some courses, including some methods and assessment courses, practica, seminars, Liberal Arts, and technology courses, are closed with fewer students.
Students who are not registered may not attend classes.
Adding, Dropping, and Withdrawing from Courses
Graduate students may add and drop courses during a specified period at the beginning of each semester/session. No courses may be added after this period. After the deadline, students may withdraw from courses up to a specified date near the end of each semester/session. Withdrawing from a course requires approval by the Associate Dean for Graduate Programs. Withdrawing from a course after the "Add/Drop Period" will be recorded as a "W" on the student's official transcript. Students must officially drop or withdraw from courses; otherwise, courses will remain on transcripts with a grade of "F."
A doctoral student who wants to withdraw for a semester or more must seek in writing permission to do so and will also need permission to re-enter. Doctoral students who are allowed to withdraw and re-enter must make up any missed coursework during the next cohort. Approval for withdrawal and re-entry is not automatic.
All students who wish to drop or withdraw from courses are strongly urged to consult with the Office of Financial Aid beforehand.
Refunds of tuition in cases of dropping or withdrawing from courses are pro-rated downward beginning on the first day of the semester, not the first meeting of the class. Please see the refund policy below.
Communications
All graduate students are given a Manhattanville e-mail address. All official communications with graduate students will occur through e-mail to the Manhattanville e-mail address. Grade reports will be available only through WebAdvisor on the college website.
Field Experience
All programs leading to New York State certification must provide 100 hours of field experience for candidates. Field experience hours are incorporated into course assignments for required courses. Students should be aware that many courses require a time commitment beyond the time in the college classroom. A course which requires field experience cannot be passed unless the field experience hours are successfully completed. Field experience hours must be completed at specified grade levels in specified types of schools. These typically cover the full range of grades for the certificate being sought and schools with a diverse student body. Students are required to seek diverse experiences, generally including schools in New York City. Students must provide their own transportation to field experience sites.
Manhattanville Writing Assessment
Most Masters degree or Advanced Certification candidates must complete a writing assessment within their first full semester following matriculation. Matriculated students complete the assessment online through Blackboard on the college website. On the basis of the results, students may be required to successfully complete the Graduate Education Writing Tutorial or equivalent remediation before continuing graduate coursework or while they pursue the degree or program. The tutorial or other options for academic support may also be recommended. Offered each semester, the Graduate Education Writing Tutorial is a non-credit bearing workshop; students must register for the Tutorial. When the Writing Assessment Committee finds some concerns in a student's writing, that student must consult their department chair or program coordinator. If there are exceptional extenuating circumstances, the results may be appealed once, with the approval of the student's advisor, who will contact the Chair of the Writing Committee.
Students in the BA/MAT program are exempt.
Student/Supervised Teaching
Student/supervised teaching is the culmination of all degree and post-masters certification programs. Student teaching consists of minimally one complete semester of 14 weeks, following a full-time school schedule, and includes a weekly seminar.

The weekly seminar is an integral part of student teaching and all course assignments for the seminar must be successfully completed. Professional behavior and deportment are critical to successful teaching and will be assessed during the student teaching experience.
Placement of teacher candidates in classrooms for student teaching is a complex process, necessitating finding appropriate schools and grade levels to fulfill certification and degree requirements. Considerable time is also required to ensure that each candidate will be placed in the most suitable seminar group. ALL student or supervised teaching must be pre-approved.
Therefore, candidates for student teaching must schedule an appointment with the Office of Field Placement. Candidates for student/supervised teaching in Fall semester must meet with the Office of Field Placement by March 15 of the preceding Spring semester. Candidates for student/supervised teaching in Spring semester must meet with the Office of Field Placement by October 15 of the preceding Fall. Students who do not meet these deadlines must postpone student teaching.
Candidates for student/supervised teaching must also schedule a review by Graduate Advising before meeting with the Office of Field Placement. With approval of the Office of Field Placement, students who are employed as teachers in an accredited school and teaching in the area of their degree or post-masters program may be able to use their own classrooms as their student teaching sites.
Students must be fully matriculated prior to beginning their student/supervised teaching.
All graduate Education courses, a Child or Adolescent Development course, all NYS liberal arts requirements for certification, and all required NYS workshops and certification exams must be completed before student/supervised teaching, except in exceptional circumstances. Those who are not candidates for NY teaching or leadership certification do not need to meet the NYS requirements.
All students undertaking student teaching will complete an electronic portfolio, the "edTPA," or, for those already certified, a substantial equivalent, as a requirement for successful completion of student teaching. For those seeking their first NY State teacher certificate, the edTPA must also be submitted to NYS ED for evaluation, as a requirement for certification in NY State.
Student teaching can be completed only in the Fall or Spring semesters; exceptions for stuednt teaching in Summer session for certified, full-time, in-service teachers completing a Masters degree in a subject or grade level other than the one they are currently teaching are sometimes possible. No summer placement can be guaranteed.
Students must provide their own transportation to and from student teaching sites. Student teaching must be completed within a twenty-five mile radius from the college within Westchester, Rockland, Putnam, Orange, Fairfield, or Bronx Counties.
Successful completion of student teaching does not automatically entail that the candidate is eligible for certification.
For additional information, please refer to the Student/Supervised Teaching Handbook in the Field Placement Office or on the college website.
Independent Study
Courses in independent study format may be available optionally in programs where courses may not be offered with regularity or where there are unavoidable course conflicts. Independent study courses are offered strictly with the approval of a faculty mentor who will supervise and the Office of Graduate Advising or the Doctoral Program Coordinator. Hours and assignments will follow NY State and School of Education requirements. No more than two independent studies are typically allowed in a degree or certificate program. Exceptions may be made for students in programs with limited offerings or who have very extensive backgrounds in the area of the degree.
Grade Requirements
Students in all Master-level programs must maintain a minimum cumulative GPA of 3.00. Professional behavior and dispositions are an important part of teaching success and will be part of the assessment of students in all courses. Students receiving a grade of C or below in any course or whose cumulative Grade Point Average is below 3.00 at the end of any semester will be subject to review by the Office of Graduate Advising and/or the SOE Graduate Academic Standards Committee. At their discretion, this review could result in a requirement that the student repeat that course at the college or elsewhere or complete one or more equivalent courses or be denied permission to register for further study in the School of Education. Grades below C will not count towards a degree or advanced certificate Program. If a student receives a C or below in any course and re-taking the course is required, the course may be repeated only once.
The minimum acceptable grade in a doctoral course is C. No more than one course with a grade of C may be counted for credit in a student's doctoral program. Doctoral students must maintain a cumulative GPA of 3.25 or above. Those whose cumulative grade point average drops below 3.25 or those who earn a C or less in two or more courses will be placed on academic probation. Once on academic probation, a student must meet with his or her academic advisor and make a plan for correcting the problem. The student will have one calendar year to implement the plan. Students who earn Cs or below in two courses must take at least one of those courses again at the next available opportunity and earn a B or above. Students who do not meet the requirements for removing themselves from academic probation within a year will be reviewed by the Doctoral Admissions Committee, which may expel the student or develop a new plan for remediation.
All courses applying towards certification and all courses counting towards a degree or Advanced Certificate program, with the exception of some internships, must be taken for a letter grade.
Students cannot apply for graduation or graduate while on academic probation or expulsion, or while any course is incomplete.
Repeating a Course
Graduate courses in which a grade above C has been earned may not be retaken for credit towards a degree or advanced certificate program. A non-matriculated student who is taking a course for purposes of teacher certification may retake a graduate course if he/she has received a grade of C+ or below. Repeated courses will not count towards cumulative credits earned.
For repeated coursework, both grades earned will count towards the cumulative GPA.
Incompletes
An incomplete or "Grade Deferred" is granted by the Associate Dean for Graduate Programs or Doctoral advisor, as appropriate, with approval by the course instructor, for extraordinary reasons and for a limited, specified period of time, where there is a realistic probability of successful completion of the course and achievement of course learning objectives. This will typically not exceed one semester and may not exceed one year. If the work is not completed by the time specified on the Incomplete form, the student's grade automatically reverts to an "F." An incomplete Grade Contract must be signed by the instructor, student, and Associate Dean or Doctoral advisor.
Transfer Credits
With the approval of Grad Advising, matriculated masters and advanced certification program students may transfer up to six graduate credits toward their degree from a regionally accredited college or a non-regionally accredited institution with comparable curriculum and standards to those at Manhattanville College, provided that the coursework is determined by the faculty to have the necessary learning outcomes, to be current, to be appropriate for the student's program, and to have earned a grade of B+ or better. Additional credits above 6 but below 50% of a program from selected regional institutions or for specific programs will be considered in limited instances at the discretion of the college.
No credits can be transferred to a Masters degree or advanced certification program from a Masters degree or certificate program completed at another institution. Credit for student teaching cannot be transferred from another institution. Up to 12 credits of post-masters courses, taken at a regionally accredited institution, or a non-regionally accredited institution with comparable curriculum and standards to those at Manhattanville College, provided that the coursework is determined by the faculty to have the necessary learning outcomes, to be current and appropriate for the student's program, and to have earned a grade of B+ or better, within the last ten (10) years, may be transferred into the Doctoral degree to replace specified courses, with approval of the Doctoral Admissions Committee.
Students in the Executive Ed.D. in Educational Leadership for ABDs may transfer up to 39 credits into the 59-credit doctoral program, with approval of the Doctoral Admissions Committee.
Candidates must file a written request to have course credits approved for transfer. Masters-level students are strongly advised to request approval from Graduate Advising for coursework to be transferred before the course is taken. Acceptance of transfer credits cannot otherwise be guaranteed. Doctoral students will normally make this request and receive advisement and potentially approval for transfer during the second semester of the program.
In all cases, faculty may request a course description and/or a syllabus to facilitate review and potential approval. It is the student's responsibility to verify that the coursework will earn/has earned official graduate-level credits and a letter grade. It is the student's responsibility to ensure that the School of Education receives an official copy of the transcript for a transfer course. If transcripts are received later than 10 business days before the student's graduation, that student's graduation will be postponed until the following semester.
Professional Development Credit
Courses taken solely for purposes of professional development may be taken on a Pass/Fail basis. A grade of "Pass" will be awarded for work equivalent to a B- or above. Students taking graduate courses for professional development credit must complete all assigned work for the course. Participants should verify with their schools or school districts whether such credit is acceptable to the school or district.
Auditing courses
Students may audit most graduate courses in the School of Education. Auditors may not register for doctoral courses, most Education Leadership courses, online or hybrid courses, most courses held off-campus, practica, seminars, student teaching, or courses requiring specific equipment such as Physical Education or Ed Tech courses.
Auditors must register by the first day of the semester, if space is available, and may start attending. Auditors will be officially registered as of the "add/drop" deadline each semester. Auditing will result in an official college transcript indicating credits but no letter grade.
Auditors may participate in in-class activities not leading to a grade, such as general class discussion or small group work. Auditors will not submit work to be assessed by the instructor, whether completed in class or as assigned work outside of class. Auditors will not present assigned work individually or as part of a group to the class.
Comprehensive Exam, Degree Portfolio or Final Project
All Masters degrees conferred in New York State must include a culminating experience. Depending on their programs, degree candidates are required to complete one or more culminating experiences as specified for the relevant program. SEE PROGRAM PLANS FOR SPECIFIC REQUIREMENTS.
Different programs require comprehensive examinations at different stages. Comprehensive examinations are offered twice a year, during the Fall and Spring semesters. For students whose graduation would be substantially delayed or who will be student teaching in the Fall, the examination may be offered in the Summer. Students must register for the examination by the beginning of the semester in which they will take it. Students who fail the comprehensive examination may retake it once and may be required to successfully complete the graduate education writing tutorial or other remediation approved by the program director or department chair before retaking the exam. Those who fail a second time will be required to substitute additional remediation, which may include coursework and must include a substantial writing component, and will be prohibited from registering for any other graduate education courses until this requirement has been satisfied. Students who fail the Special Education comprehensive examinations for the second time will be prohibited from continuing in the School of Education.
Final Projects in lieu of comprehensive exams, where allowed, will be due one month before the end of the semester of graduation. Students must register for final projects as they would for comprehensive exams. Students who fail the exams once are not permitted to substitute a final project.
Culminating Experience Reports required for all Childhood programs and Science Education portfolios will be due during the semester prior to student teaching, except in limited cases where students have not completed all pre-requisite courses.
Candidates in Teaching Languages Other Than English must also complete the Oral Proficiency Interview and Written Proficiency Test of the American Council for Teaching Foreign Languages, with scores of "Advanced-Low" or above. Registration materials are available in Graduate Advising. Candidates in Bilingual Education must complete the Oral Proficiency Interview.
Doctoral Portfolio
Doctoral students will submit a portfolio documenting progress in each of the major
program activities, including in-class work, field work, and applied research projects.
For evaluation at the end of the Spring semester each year. Students will begin developing a portfolio in the professional and scholarly communications course taken in the first semester of doctoral work. All portfolios will be electronic and all doctoral students will continuously update their portfolios until they complete their|
doctoral program studies.
If it is determined that the student has performed unacceptably in many areas, and/or
has demonstrated patterns, characteristics, skills, or abilities incompatible with
positions of responsibility and leadership, the academic advisor will work with the
student to develop a detailed action plan with specific outcomes that can be monitored
and assessed. The advisor and one additional faculty member meet with the student
monthly to monitor progress and discuss possible adjustments in the action
plan. The portfolio committee meets at the end of each semester and determines
whether the student may continue in the program. If the committee feels that the
student has been so successful in dealing with the problems that he or she now falls in
the Promising, Good, or Exemplary categories, close supervision ends. However, if
the decision is negative, that decision, the documentation of the committee meetings,
and the supporting evidence is passed on to the program coordinator. The coordinator
arranges a meeting with the Department Chair and the Dean of the School of
Education. After the group reviews the material provided, they also meet with the
student and then make a decision to support or overrule the portfolio committee. If the
group upholds the committee's decision, the student will not be allowed to continue the
program.
For more information on the portfolio component of the doctoral program, please see
the Doctoral Portfolio Development Manual on the program web site.
Dissertation
Extensive information on the doctoral dissertation, the dissertation committee, and processes for completion and defense of the dissertation can be found in the Doctoral Dissertation Handbook, available on the college website and through the Doctoral Program Coordinator.
Intent to Graduate and Graduation
It is the responsibility of students in all degree or advanced certification programs to notify the School of Education of their intent to graduate, by the beginning of the semester of graduation. "Intent to Graduate" forms are available in the Graduate Advising Office and online. Students must complete all program requirements in order to be eligible for graduation and participation in the commencement ceremonies. Only students who have received or will be receiving an actual degree are eligible to participate in commencement ceremonies. Individuals who have completed the required curriculum for a certification program or professional diploma will be listed in the commencement program, but are not eligible to participate in commencement. Official documentation of completion of a certificate program or a professional diploma is recorded on the student's official transcript only. Diplomas will be withheld from any student who has a financial obligation to the college.
Leaves of Absence, Withdrawals, and Return
The College understands that graduate students can encounter unforeseen obligations from unpredictable occurrences that can make completing a graduate program overly difficult. Students wishing to withdraw from their graduate program either permanently or for a limited period of time may do so at any time after they have registered by informing the Office of Graduate Advising and completing a Graduate Leave/Withdrawal form, available from Graduate Advising. Withdrawal from a program that includes withdrawing from on-going courses after the "add/drop" deadline of a given semester will be governed as stated in the sections "Adding, Dropping, and Withdrawing from Courses" and "Refund Policy."
Students leaving a program under any such circumstances are required to consult with the Office of Financial Aid. Graduate Advising will inform the Registrar, Financial Aid, Student Accounts, and Graduate Admissions.
To return after a leave of absence, students must make a request for reinstatement to the Office of Graduate Advising in writing. Depending on the length of the hiatus, additional Education courses may be required to update the student's program, as determined by the relevant department of the School of Education. Students will also have to meet any new or revised certification requirements imposed by NYSED.
Students who have withdrawn must apply to the Graduate Admissions Office for formal re-admittance. Re-admittance is not guaranteed. Students must meet standards for admission that are in effect at the time of application for re-admittance.
Attendance Policy
Students are required to check their course syllabus and must follow the attendance policy stated therein to avoid penalty that could include failing or being dropped from the class.
Attending class is vital to academic success. Accordingly, Manhattanville College expects attendance and punctuality at all classes. Students are expected to accept personal responsibility for any absences, and will be held responsible for all course content, requirements, and assignments, whether or not they are present in class. Individual instructors may establish course attendance policies, including penalties for absences and lateness. The responsibility for explaining and/or documenting individual absences rests with the student, who must understand that instructors are not obligated to grant requests for make-up or supplementary work.
Academic Conduct & Professional Dispositions
The School of Education strongly supports the college's mission to "educate students to become ethically and socially responsible leaders for the global community." Professional behavior, demeanor, and appearance are critical aspects of responsibility and leadership with children and colleagues. Professional conduct is expected of candidates at all times.
Academic Honesty
We promote and rely on mutual respect, civility, concern for others and academic integrity. Academic dishonesty undermines all of these. All forms of academic dishonesty, unfair advantage, and plagiarism will have consequences in all instances. For any act of academic dishonesty, the School of Education may impose one or more of the following sanctions: rewriting the assignment and/or failing the assignment, failing the course, taking an LIS workshop, not being recommended for certification, and/or being expelled from the graduate program. In all cases where academic dishonesty is suspected, both faculty members and students have the obligation to bring the matter to the attention of the relevant Department Chair. All students will be held accountable to this policy whether or not the course syllabus explicitly specifies a policy on academic integrity.
Dispositions
The School of Education values collaboration, emotional maturity, flexibility, honesty and integrity, professionalism, respect, responsibility, and reverence for learning.
These values are indicated by respectful action towards college faculty and classmates in classrooms, and on-campus. We believe that a candidate's ability to behave professionally and respectfully at all times is diagnostic of his/her ability to behave professionally and effectively as an educator. We, therefore, expect candidates to model as graduate students the same behaviors they will follow in their own practice as educators, in and out of classrooms. We expect and will observe and assess professionalism and respect in all classrooms, at all campus events, and in all professional settings, college or "preK-to-12.".
Instances of unprofessional behavior which is not immediately rectified will be reported to and recorded by the appropriate Department Chair and/or the Office of Graduate Advising. Candidates who exhibit a serious, documented lack of professional dispositions will be subject to a range of sanctions including, but not limited to a course grade being lowered, failure of the course, mandatory counseling and/or other required remediation, restrictions from activities or privileges, denial of the college recommendation for teacher or leader certification, removal from student or supervised teaching and denial and/or delay of placement for student teaching, and/or expulsion from the School of Education.
For further information, definitions, and adjudication and appeals processes, please consult the School of Education Graduate Student Code of Community Conduct. The Code of Conduct is available on the college website and in the Office of Graduate Advising.
It is each student's responsibility to become familiar with these materials.
Please refer to the Manhattanville College Code of Community Conduct for the college's policies on harassment, bias acts, and sexual misconduct, and confidentiality and academic freedom.
Absences
More than two absences can affect the course grade; individual courses may have more restrictive policies
Grievance Procedure for Graduate Students
At Manhattanville, grievance procedures exist for students who feel they have received truly biased or unfair treatment by a faculty member or by the School of Education administration.
1. If the student and faculty member or administrator cannot resolve the problem through direct discussion in a mutually satisfactory manner, the student should bring the matter in writing to the attention of the appropriate department chair or the Office of Graduate Advising. This must happen within one semester of the claimed instance. All appeals brought by students who have graduated must be made within 30 days of graduation.
2. If the matter cannot be satisfactorily resolved by the Office of Graduate Advising, the student has the right to appeal to the School of Education Graduate Academic Standards Committee. The student must bring the issue in writing to the Office of Graduate Advising, within five business days of the latest communication with the department chair or Associate Dean. The Office of Graduate Advising will present the material to the Graduate Academic Standards Committee, which will consult all parties, collect information, and seek a solution. The Office of Graduate Advising will communicate the results in writing to the student.
3. If the issue remains open, the student may appeal in writing to the Dean of the School of Education within five business days of receipt of communication from the Office of Graduate Advising. The Dean will form a grievance committee for a review, including the Provost, an Associate Dean, and one faculty member, either from the college or the School of Education. The Dean will serve ex-officio. The decision of the grievance committee will be conveyed by letter to the concerned parties.
4. The decision of the grievance committee may be appealed to the President only on the basis of procedural unfairness or new evidence that might result in a different decision. Such an appeal must be made in writing within 5 business days after receipt of the letter from the grievance committee.
Accommodations for Students with Disabilities
In accordance with Section 504 of the Rehabilitation Act of 1973, and the Americans with Disabilities Amendment Act of 2008, the College strives to ensure that "no otherwise qualified individual with a disability shall, solely by reason of her or his disability, be excluded from the participation in, be denied the benefits of, or be subjected to discrimination under any program administered by the college."
Students with disabilities may voluntarily register with the Office of Disability Services at any time after acceptance to the college. Students may be asked to provide current documentation of their disability or undergo further evaluation, which will be kept confidential. Students should consult the Director of Disability Services with any questions, and to register with the Office.
At the beginning of each semester, a student who is registered with the Office of Disability Services should request in writing from the Director that their professors be notified of accommodations. It is the students' responsibility to make arrangements with the professor each time the accommodation is to be provided (e.g. before each test).
For further information, including a grievance appeals process, contact the Director of Disability Services.
Complaints
Manhattanville College strives to improve student services and welcomes input regarding our policies and procedures. All student concerns or complaints should be directed to the appropriate departmental chair and/or to SOE Graduate Advising, preferably in writing. If the initial response does not adequately address a student's concerns, the complainant is encouraged to contact the Dean of the School of Education. If the matter is not resolved, the matter may be taken to the Office of the Vice President of Student Affairs.
All written complaints/concerns should be accompanied by relevant documentation. The Dean and then potentially the Vice President for Student Affairs will review the documents and the circumstances with the appropriate area and will either respond personally to the complaint, or direct the appropriate member of the institution to do so within 10 days of receipt of the written complaint.
Due to Federal regulations the College generally only corresponds with students, not parents or guardians.
State Teacher Certification
TEACHER CERTIFICATION IS CONFERRED BY NEW YORK STATE UPON APPLICATION BY THE STUDENT TO THE STATE EDUCATION DEPARTMENT FOLLOWING RECOMMENDATION BY THE SCHOOL OF EDUCATION ON BEHALF OF THOSE WHO COMPLETE A DEGREE OR PROGRAM. OTHERS MUST APPLY ON THEIR OWN BEHALF.
Specific coursework required for teacher certification via degree or advanced certification program is described in each program plan. This coursework must be completed prior to student teaching.
It is the responsibility of the candidate to be familiar with and to fulfill all of the Liberal Arts, testing, workshop and other requirements for certification.
New York State certification requirements are subject to frequent change. The information herein is accurate as of the date of publication. Efforts are made to communicate changes to certification requirements via Manhattanville email, but it is the responsibility of candidates to remain up-to-date and to meet current requirements.
New York State Liberal Arts Requirements
Initial certification in most subject areas requires the following Liberal Arts Prerequisites. These can be completed at any regionally accredited institution of higher education, must be reported on an official transcript, and must have earned a letter grade of C or better. Documentation of course content via a syllabus, course catalog or other means may be requested. Satisfaction of a content requirement granted by an accredited institution of higher education reported on an official transcript or official letter, by means other than coursework, may also satisfy these prerequisites.
New York State considers Liberal Arts courses to be those that are independent of specific application, theoretical as opposed to practical, and not definitely directed toward a particular career or profession.
Courses offered in the areas of Literature, some Dance and Theater courses, Languages, Musicology and Music Theory, History, Art History and Theory, Philosophy, some Religious Studies, Area Studies, most Mathematics, Natural Sciences and Social Sciences, including some Criminology courses, among others, are generally considered Liberal Arts.
Health and Physical Education, Management and Finance, Business, Accounting, Education, Library Science, most Engineering classes, Law and most Criminal Justice courses, many Communications courses, many Journalism courses, Studio Art, Theatre Production, Music performance, applied sciences, many Computer Science courses, Fashion and Design, Counseling, Resource Conservation or Management, Recreation or Hospitality, Social Work, Speech Therapy, Nutrition, and some Environmental Studies courses, among others, are not considered Liberal Arts.
Coursework is required in:
Mathematics – Most courses taught by a Mathematics department are acceptable.
Science – Most courses taught by Science departments or under the heading of Natural or Physical Science are acceptable.
Literature – Most courses in English, world, or comparative literature and creative writing are acceptable, EXCLUDING composition.
Foreign Languages – Any language other than English, including American Sign Language, is acceptable. Six credits or the equivalent in one or more languages are required by all certifications except for TESOL, which requires 12.
History – Courses taught by a History department are acceptable. Historically-based courses in other social science areas may be acceptable when documented and will be evaluated individually. Courses in the history of a discipline or history of ideas or Art History are not acceptable.
Study is also required of: Written Analysis and Expression; Visual and Performing Arts; Oral Communication (Communication is defined as practice in close and critical reading or research and/or conveying information orally.)
Credit for Life Experience: Candidates who enter the graduate program with significant life experience in Visual or Performing Arts, Oral Communication, or Writing, may petition for credit towards the relevant New York State certification pre-requisite. The petition will consist of an essay of 3-5 pages and documentation of the experience. This will be evaluated by the Associate Dean for Graduate Programs, in consultation with appropriate faculty. Documentation of the experience may take a variety of forms, including, but not limited to, copies of art work or published writing, recommendation by a mentor, published reviews, event programs, etc.
New York State Content Core Requirements
Every Manhattanville candidate for an initial teaching certificate must complete at least 30 credits in Liberal Arts including at least 18 credits in ONE Liberal Arts discipline. A major or course designated as Liberal Arts by a college does NOT automatically qualify.
For ALL Secondary subjects, Art, and Music, the candidate must present at least 30 credits outside of the Masters in the specific area of certification. For details on Social Studies, Mathematics, Sciences, English, Visual Arts, Music and Foreign Language requirements, see the relevant program plans in this catalog. In certain cases, these courses may be completed as part of the graduate program. Courses other than those specified may also be required by the Chair of the Art Department or the Director of Music, on the basis of the required portfolio review or audition.
No courses graded Pass/Fail can be accepted for any purposes of certification, unless the credit-granting policies of the relevant college can be documented.
Unfulfilled requirements may be met by courses taken at Manhattanville, community colleges, online providers granting official college credits, or by College Level Examination Program (CLEP) exams, Determination as to whether a specific course is acceptable in meeting a requirement will be made by the Associate Dean for Graduate Programs, in consultation with the faculty where needed. A course designated as meeting a specific distribution requirement by a college does NOT automatically qualify.
New York State Examination and Portfolio Requirements
Candidates for NY certification must achieve qualifying scores on the specific tests required by NYS ED for the relevant subjects and/or grade levels, including a performance assessment known as edTPA, submitted electronically to NYS ED.
Only candidates who are seeking NY State certification and who are not yet certified in New York must prepare and submit the edTPA to the NYS Education Department.
Normally, the edTPA will be completed and submitted during the student or supervised teaching semester. Any student or alumna/ae who fails or has not submitted any part of the edTPA may seek additional mentoring through the School of Education before or after graduation, for which there will be an additional tuition charge. Such students must seek their own placements in schools as necessary.
For further information on specific tests for all certification titles, students can consult http://www.highered.nysed.gov/tcert and the Graduate Advising Office.
Through June 30, 2017, NYS ED has in place various "safety nets" for those who fail one or more of the NYS Teacher Certification Exams, including the edTPA. For information, consult Graduate Advising and the NYS ED website.
State-mandated Workshops
The New York State Education Department requires all candidates for certification to complete a two-hour seminar on identifying and reporting suspected child abuse and maltreatment, a two-hour seminar on school violence prevention and intervention (SAVE), and a six-hour workshop on Bullying, Harassment, and Cyber-bullying (DASA), which must be offered by NYS ED-approved providers. Additional certification in Special Education may also require a four-hour workshop on autism. The seminars are offered by the college, for a fee. If the seminars are completed elsewhere, proof of completion must be provided to the college.
Fingerprinting
Fingerprinting is required prior to doing Field Experience and/or Student/Supervised Teaching. To arrange to be fingerprinted for NYS ED go to www.identogo.com.
Application for Certification
The School of Education will submit a recommendation for certification in the area(s) of the degree or program to NYS ED for those who have completed a degree or advanced certificate program and who have met all requirements for certification, with the exception of NYS testing.
After the recommendation has been submitted by the college, the student must apply online at www.nysed.gov and pay the required NYS fee.
GRADUATION OR PROGRAM COMPLETION DOES NOT AUTOMATICALLY ENTAIL THAT THE COLLEGE WILL RECOMMEND A STUDENT FOR CERTIFICATION. THE COLLEGE RESERVES THE RIGHT TO WITHHOLD ITS RECOMMENDATION AT ITS SOLE DISCRETION.
Program Costs & Refund Policy
Tuition Costs 2015-2016
| | |
| --- | --- |
| GRADUATE COURSE TUITION (per credit) | $915.00 |
| Student Teaching Supervision Fee | $745.00 |
| Registration Fee (Per semester/session) | $60.00 |
| Culminating Experience Fee | $50.00 |
| Late Registration Fee (during Add/Drop ) | $245.00 |
| Late Registration Fee (after Add/Drop) | $415.00 |
| Writing Tutorial Fee (if required) | $350.00 |
| Late Payment Fee (per month) | $50.00 |
| Auditing fee | $510.00 |
| Parking permit (per semester/session) | $15.00 |
| Graduate dormitory resident comprehensive fee | $200.00 |
| Jump Start additional mentoring fee | $915.00 |
Studio Art, Music, Science Lab, Practica and other courses may carry additional fees.
Refund Policy
Refunds of tuition charges are computed as of the date the student officially drops the course. Refunds are pro-rated downward beginning on the first day of the semester, regardless of the class schedule. For the first two weeks of classes, a refund of 80% will be issued. For the third week, 60%. For the fourth week, 40%. For the fifth week, 20%. After the fifth week of classes, no refund will be issued.
Under exceptional circumstances, appeals may be made to the Bursar Appeals Committee.
School District Partnerships & Tuition Discounts
Full-time teachers, administrators, and staff teaching in districts, schools,
organizations, or networks with which the School of Education has a partnership may be
eligible for a tuition discount, for any semester in which they are employed full-time by
such an institution. Partnerships are subject to change.
Full-time employees in districts where Manhattanville maintains a professional development school are eligible for a 33% discount. Faculty in districts which belong to the Changing Suburbs Institute are eligible for a 20% discount. For a complete list of current partnerships, consult the college website or the Office of Graduate Advising.
Faculty and administrators who teach in accredited religiously-affiliated institutions, at Churchill School, Summit School, or at Keio Academy, and returned Peace Corps volunteers are also eligible for a tuition discount.
Those claiming eligibility for a discount must complete the "tuition verification form,"
available from Graduate Advising and must annually submit proof of employment. Due to federal reporting requirements, ALL requests for discounts for a semester must be made by the official ADD/DROP deadline for that semester and preferably before registration. Requests are made to the Office of Graduate Advising.
Anyone registering for any graduate class must hold a Bachelor's degree, with the exception of those currently enrolled in a Manhattanville dual BA/Masters degree program.
Alumni & Graduate Scholarships
Manhattanville alumni from 1999 on, whose final cumulative GPA is 3.00 or above, are eligible for scholarship aid of $1,000 per semester. Students must be registered full-time (9 or more graduate credits).
Manhattanville alumni who pursue full-time graduate study immediately after graduation are eligible for the Fast Start program which provides a 20% discount for all coursework. Fast Start students who have a 3.6 GPA are eligible for an additional $1,000 during the first semester.
Graduate scholarships will be awarded to any incoming graduate student (with the exception of those in a Manhattanville BA/Masters program) possessing an overall grade point average of 3.2 or higher who registers for six credits or more for the first graduate semester. Students applying to and matriculated into the School of Education Graduate program may be entitled to one of the following academic scholarships for the first semester of study only:
GPA SCHOLARSHIP IF TAKING AT LEAST AMOUNT
3.70 – 4.00 Board of Trustees 9 credits $2,000
" 6 credits $1,200
3.50 – 3.69 Presidents 9 credits $1,500
" 6 credits $1,000
3.20 – 3.49 Merit Award 6 credits $1,000
Dual-degree (BA/MAT, BA/MPS, etc) students are not eligible for Fast Start, Alumni or Graduate scholarships.
A discount of one third is offered for "Teachers in Transition," those teachers who are affected by lay-offs due to financial exigency in a school or school district. This can be applied to any graduate Education credits accrued during the calendar year following unemployment. The discount is contingent on proof of unemployment due to fiscal exigency.
Scholarships and discounts may not be combined. Scholarships may not be applied if a student is receiving any other discount, is a Graduate Assistant, or is receiving tuition assistance from any employer including Manhattanville, except by prior agreement with that institution.
Kappa Delta Pi - Omega Xi Chapter
Kappa Delta Pi is the international honor society in education. Students are eligible for selection if they meet criteria established by the society after completion of 6 education credits with an overall GPA of 3.25 and 3.4 in their education course work. Besides high academic achievement, an invitation to membership is based on a commitment to education as a career and a professional attitude which assures the member's steady growth in the field of education. Initiation ceremonies are held twice a year. For further information, contact the Chapter Advisor.
Equal Employment Opportunity And Affirmative Action Policy
Manhattanville College does not discriminate on the basis of sex, sexual orientation, race creed, national origin, age, marital status or handicap. This policy applies to access to all activities and programs under the College sponsorship as well as to application and selection for admission, employment and all other personal procedures within the College. Consistent with the requirements of Title IX of the Education Amendments of 1972, as amended, and Part 86 of 45 C.F.R., Manhattanville College does not discriminate on the basis of sex in the conduct of its education programs or activities (including employment therein and admission thereto).
Inquiries on these matters may be referred to the Campus Title IX Coordinator or Deputy Title IX Coordinators:
Sharlise Smith-Rodriguez – Deputy Title IX Coordinator
Dean of Students
Berman Students' Center – Main Floor
914-323-3134
Sharlise.Smith@mville.edu
Julene Fisher – Deputy Title IX Coordinator
Assistant Director of Athletics
Title IX Deputy Coordinator
Kennedy Gym – Main Floor
914-323-7285
Julene.Fisher@mville.edu
Stephanie Carcano – Deputy Title IX Coordinator
Finance Department Assistant/HR Coordinator
Manhattanville College
2900 Purchase Street
Purchase, NY 10577
914-323-5417
Stephanie.Carcano@mville.edu
Provost OR The Director, Office of Civil Rights (Region II)
2900 Purchase Street 26 Federal Plaza
Purchase, NY 10577 New York, N.Y. 10007
(914) 323-5208
Directions To Campus
Manhattanville College is 25 miles north of New York City, 5 minutes from White Plains and 15 minutes from Greenwich, CT.
Driving
From the South: Hutchinson River Parkway to Exit 27 (Route 120/Purchase St.), turn left onto Purchase St. to College entrance on left.
From the North: Merritt Parkway to Hutchinson Parkway in New York to Exit 27 Route 120/Purchase St. (not Exit 27 Route 120A in Connecticut) turn right onto Purchase St. to College entrance on left. Or Route 684 to Exit 1, Manhattanville Road. Turn left and go to Route 120, Purchase St. Turn left onto Purchase St. and continue to the College entrance on the left.
From the West: Cross Westchester Expressway to Exit 8E (Westchester Avenue), turn left on Anderson Hill Road to light at Route 120/Purchase Street, turn right onto Purchase St. to college entrance on right.
By Bus
Westchester County Bus #12 from
White Plains Bus depot.
By Train
Harlem Division of Metro North to White Plains;
Westchester County Bus #12 or taxi to campus.
Or, New Haven Division of Metro North to Rye; taxi to campus.
Directions to Offices of the School of Education:
Enter through Reid Hall ("The Castle") to end, turn right, then left and follow the corridor that leads past the Chapel to Benziger Hall. The School of Education general administrative offices are on the main level and the Field Placement office is on the lower level of Benziger Hall.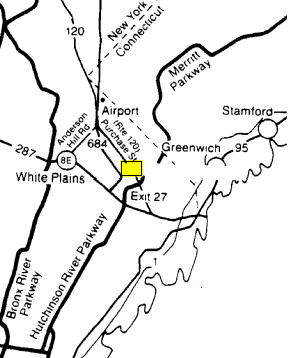 Manhattanville College
2900 Purchase Street
Purchase, New York 10577
(914) 694-2200
School of Education
(914) 323-5214