2013-2014 Undergraduate College Catalog
This seal represents the four core values of Manhattanville's rich tradition.
The book symbolizes academic excellence and a respect for intellectual inquiry. The sun signifies enlightenment, development of the whole person – mind, body, and spirit – in an atmosphere of responsible freedom. The star is a sign of Manhattanville's quest to build a nurturing, caring community, founded on mutual respect and personal accountability. The mountain represents our challenge to our students to make the world a better place through responsible social action. Finally, the crossroad connecting the four values is an emblem of the paths that meet at Manhattanville to bring together students and faculty from all parts of the world.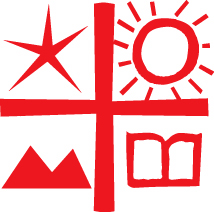 Important Notice: Catalog Revisions
Manhattanville College reserves the right, because of changing conditions, to make modifications of any nature in the academic programs and requirements of the College without notice. Tuition and fees set forth in this publication are similarly subject to change by Manhattanville College. The College regrets any inconvenience this may cause.
The responsibility for compliance with the regulations in each Academic Catalog rests entirely with the student. The Catalog is not a contract, and nothing in this Catalog can be construed as the basis for a contractual claim. The curricular requirements in this Catalog apply to those students matriculated in the 2013-2014 academic year. This Catalog reflects policies, fees, curricula, and other information as of August 2013.
Last modified: August 2013
Equal Employment Opportunity and Affirmative Action Policy
Manhattanville College does not discriminate on the basis of race, color, national origin, age, gender, and disability in its programs or activities. This policy applies to access to all activities and programs under the College sponsorship, as well as to application and selection for admission, employment, and all other personal procedures within the College.
Consistent with the requirements of Title IX of the Education Amendments of 1972, as amended, and Part 86 of 45 C.F.R., Manhattanville College does not discriminate on the basis of gender in the conduct of its education programs or activities (including employment therein and admission thereto). Inquiries concerning the application of Title IX and Part 86 of 45 C.F.R. may be referred to the Director, Office of Civil Rights (Region II), 26 Federal Plaza, New York, N.Y. 10007.
Letter to Parents
Dear Students, Parents, families and friends,
Welcome to Manhattanville College! Manhattanville, founded in 1841 by the Sisters of the Sacred Heart, but with an over 40-year history as an independent and comprehensive institution focused on both undergraduate and graduate learning, is strongly committed to continuing its tradition of preparing students for service and civic engagement in an increasingly diverse and global community.
Our mission remains a vital source of inspiration to our faculty, staff, and students:
The mission of Manhattanville College is to educate ethically and socially responsible leaders for the global community. Manhattanville is committed to fulfilling that mission by:
Ensuring the intellectual, ethical, and social development of each student within a community of engaged scholars and teachers.
Encouraging each student to apply his or her development as an independent leader and creative thinker, to career and personal goals.
Providing a diverse campus community whose members know, care about, and support each other and actively engage the community beyond.
Manhattanville College today sees the liberal arts as a wellspring from which students draw passion, intellectual depth and breadth, and inspiration. We believe the liberal arts allow students to integrate their career aspirations into a strong and flexible educational program. We provide outstanding career development services, beginning in the freshman year, to help students explore options, develop skills, and find internship, service, and study abroad opportunities. Manhattanville's signature Portfolio System helps every student develop a profile of their growth and achievements that they can present to their peers, their faculty, and to the outside world.
Please explore the Manhattanville College catalog to learn about our academic offerings, as well as our policies. Then learn more by exploring our website, www.mville.edu.
With best wishes,

Gail M. Simmons
Provost and Vice President for Academic Affairs
Brief History of Manhattanville: History and Educational Commitment
Manhattanville's tradition is based on an educational heritage that fosters the free exchange of ideas between students and teachers within the context of challenging academic programs. Through this exchange the College encourages the development of human values and a view of society as a community requiring each person's support. A liberal arts education at Manhattanville seeks to cultivate the growth of conscience as well as intellect — the ability both to reach personal moral decisions by the use of reason and understanding and the courage to defend these convictions. The alumni who have become leaders in business and the professions testify to the usefulness of the College's definition of a liberal arts education.
The College began as the Academy of the Sacred Heart, a school for girls founded on Houston Street in New York City in 1841. It was one of a world-wide network of schools maintained by the religious congregation founded in France in 1800 with the name of Society of the Sacred Heart. Like its sister schools, the Academy accepted pupils ranging in age from the elementary grades through high school. After the 12th grade, two more years were added, the so-called "superior classes," which prepared students for independent work, and allowed a wider choice of subjects. The last two years of undergraduate work were added in 1917, and the institution was chartered by the State of New York as a college for women — with the new name, Manhattanville College of the Sacred Heart. Still committed to the values that shaped its founders' belief in the liberal arts, the College became coeducational in 1971 and independent of the Society of the Sacred Heart after 1971.
Changes in the nature of the institution did not take place without corresponding changes in locale. The success of the school in the 1840's was such that a larger area was needed, and Houston Street was abandoned for the "salubrious air" of Astoria. This place, too, quickly proved too small, and the Lorillard estate north of the present 125th Street on the upper West Side was bought. In 1847 this was a rural area; gentlemen's estates and small farms were its characteristic features, and the district was known as Manhattanville. Hence the name of the modern College. As the College and the city grew, better conditions for the largely residential student body became necessary. After one hundred and five years another move brought the College to Purchase, New York, just 25 miles north of New York City to the property formerly owned by the Whitelaw Reid family, in 1952.
The long tradition of the school, which preceded the College charter, determined the character the College would have: a firm belief in the liberalizing effect of the liberal arts, a lively sense of tradition, a wide-ranging interest in the most humane manifestations of the human spirit, a continuing effort to enhance the local community and to accept responsibility for this segment of human history. These forces are alive today on the College campus. It is the challenge of students and faculty to keep them active, to translate them into terms which can be effective in the 21st century world.
School of Education Directory
Shelley B. Wepner, Dean
JoAnne Ferrara – Associate Dean of Undergraduate Admissions and Advising
Laurence Krute – Associate Dean of Graduate Advising
Jody Green – Associate Dean of Graduate Advising
Elizabeth Johnston-O'Connor – Associate Dean of Accreditation and Technology
Danielle Wachter – Assistant Dean of Operations
Laura Bigaouette – Assistant Dean of Outreach
Main Office (914) 323-5214
Linda Putorti – Assistant to the Dean/Office Manager
Renee Roff – Coordinator Accreditation & Technology & Undergraduate Advising
Patricia Gannon – Administrative Assistant
Undergraduate Admissions and Advising (914) 323-5214 / (914) 323-5180
Student Teaching Office (914) 323-3152
Gail Robinson – Director of Field Placement, Certification & Community Outreach
Alexis DePersia - Secretary
Faculty
Vance Austin/ Special Education
Ellis Barowsky/ Special Education
Lenora Boehlert/ Educational Leadership
Stephen Caldas/ Educational Leadership
Rhonda Clements/ Physical Education
Katherine Cunningham/ Literacy
Victoria Fantozzi/ Early Childhood
JoAnne Ferrara/ Childhood Education
Diane Gomez/ TESOL
Joan Gujarati/ Childhood Education
Frederick Heckendorn III/ Secondary Social Studies
Lynn Huber/ Childhood Education
Nikki Josephs/ Special Education
Courtney Kelly/ Literacy
Laurence Krute/ ESL/Foreign Language
Micheline Malow/ Special Education
Sherie McClam/ Science
Robert Monson/ Educational Leadership
Kristin Rainville/ Literacy
Robert Schmidlein/ Physical Education
Patricia Vardin/ Early Childhood Education
Yiping Wan/ Educational Leadership
Teacher Education at Manhattanville
Manhattanville's commitment to the Teacher Education programs in the School of Education is most vividly exemplified by the quality instruction offered by our caring and experienced faculty. The College's abiding concern for individual students is reflected in our personalized approach to teaching, advising and providing student support services. All programs offered are New York State Education approved and registered with the department.
This catalog is designed as a tool for planning a successful undergraduate teacher education program at Manhattanville College. Please read it carefully since it articulates Manhattanville's requirements for all undergraduate education students, whether matriculated into a program or taking non-degree courses. Students should follow the program plans of the Undergraduate Catalog that is in effect on the date of their matriculation.
The New York State Education Department (NYSED) oversees the licensing and certification of teachers through registered Teacher Education programs offered by NYS colleges, such as Manhattanville College. The Office of Teaching Initiatives, a division of NYSED, provides helpful information regarding certification requirements on their website at http://www.highered.nysed.gov/tcert/
Eligibility for Admission to the School of Education
Candidates eligible for the undergraduate programs include those who:
Are accepted and enrolled in a Manhattanville Bachelors degree program and present and maintain a minimum grade point average of at least 2.75 (A = 4).
Plan to meet appropriate undergraduate content area coursework as described in each program plan. (See "Program Plans")
Submit an application. Students must also submit official transcripts for all transfer credits to the attention of Dr. JoAnne Ferrara, School of Education.
Demonstrate an aptitude for undergraduate study.
Provide evidence of all required immunizations. Students born after January 1957, taking six or more credits within a semester or session, are required by state law to provide colleges with proof of immunization against measles, mumps and rubella. Contact the Health Center in order to comply.
International students must demonstrate English language proficiency prior to admission. All applicants who speak or write English as a second language are required to take the TOEFL exam and receive a minimum score of 550.
Admission Procedures for Manhattanville Undergraduates
Admission to the School of Education is not automatically granted with acceptance to the College. Those wishing to enter education programs will apply during the semester in which they complete EDU 2000, Fundamentals of Schools and Teaching. Students applying only to the Early Childhood Program take EDU 3017 (Foundations of Early Childhood Education) instead of EDU 2000.
Students may register to take EDU 2000 in the first semester of Sophomore year or, in special cases with permission of Associate Dean of Undergraduate Advising, as early as the second semester of Freshman year. Admission decisions will be made at the end of the semester students enroll in EDU 2000 when the criteria for acceptance into the program can be fully reviewed.
Students must earn a minimum grade of B- in EDU 2000, Fundamentals of Schools and Teaching/EDU 3017, Foundations of Early Childhood Education.
Students must receive a grade of C or better in any program course. A student receiving a grade of C- or below in an education course or a state certification require course (as listed on the program plan pages) must retake the course. Education courses may be retaken only once.
Upon application to the education program, the applicant must have earned a minimum GPA of 2.75 in the Bachelors program and must maintain that minimum GPA from the time of admission until completion of the degree.
Admission Procedures for Transfer Students
Admission criteria for transfer students are the same as those for other Manhattanville Undergraduates. If a transfer student has not taken an introductory course in Education equivalent to EDU 2000 (Fundamentals of Schools and Teaching) or EDU 3017 (Foundations of Early Childhood Education), the transfer student follows the same course requirements as non-transfer students. Transfer students should make an appointment to see the Associate Dean of Undergraduate Advising who will approve the registration for EDU 2000 during the transfer student's first year at Manhattanville. In EDU 2000, application materials will be distributed and procedures for their completion and submission will be reviewed. Admissions decisions are made at the end of the semester when grades have been posted and GPA's have been re-calculated.
If the transfer student has already passed an education course equivalent to EDU 2000 (EDU 3017 for Early Childhood Program) with a grade of B or better and is transferring into Manhattanville with a minimum GPA of 2.75, s/he may be eligible for application to the undergraduate education program. Students in this category should make an appointment to meet with the Associate Dean of Undergraduate Advising prior to starting at Manhattanville, and should bring to this advising meeting their transcript(s) and course descriptions of any education courses they have taken.
Letters are mailed to the applicants indicating acceptance as soon as possible. All students will meet with the Associate Dean of Undergraduate Advising at least once each semester; this is in addition to meeting with their academic advisors.
Eligibility for Bachelors/Masters Dual Degree Programs (Honors Program)
Students must complete EDU 2000, Fundamentals of Schools and Teaching (or EDU 3017 for Early Childhood) and must be recommended by the course instructor. Upon application to the education program, the applicant must have earned a minimum cumulative GPA of 3.4 in the Bachelors program and must maintain that minimum GPA from the time of admission into the program until completion of the Bachelors degree.
Advising & Registration
Students are required to meet with the Associate Dean of Undergraduate Advising each semester. Students are advised to register in a timely fashion for those courses that they know they must take in a given semester.
The Associate Dean of Undergraduate Advising works closely with students to help them plan their undergraduate study. Ultimately, however, it is the student's responsibility to make sure that s/he completes all program requirements.
Academic Integrity
Any student found to have committed an offense against academic integrity in any education course will be dismissed from the education program. For further information, please refer to the section on Academic Conduct in the booklet "Student Handbook and Code of Community Conduct."
BA Programs – Declaring a Major in Education
Manhattanville requires that undergraduate students declare both a Liberal Arts major and a second major in Education as part of the study plan. Education students pursuing a Bachelor of Fine Arts (BFA) choose Art Education as a Minor; they do not need a second major. Education students pursuing a BMus in Music Education do not require either a second major or minor.
Bachelors/Masters Dual Degree Programs (Honors Programs)
In each BA/MAT, BA/MPS or BS/MAT program, students complete all the requirements for a Manhattanville undergraduate degree. Dual Degree (Honors) candidates must have and maintain a GPA of at least 3.4. As undergraduates, they are allowed to take up to 15 credits toward one of Manhattanville's MAT or MPS programs with these credits counting toward both degrees. With the exception of Art and Music candidates, all BA/MAT, BA/MPS and BS/MAT students major and minor in Liberal Arts areas, not in Education.
Student/Supervised Teaching
Student/supervised teaching is the culmination of all degree programs. Student teaching consists of minimally one complete semester of 14 weeks, following a full-time school schedule, and includes a weekly seminar. The weekly seminar is an integral part of student teaching and all course assignments for the seminar must be completed as assigned. Professional behavior and deportment are critical to successful teaching and will be assessed during the student teaching experience.
Placement of teacher candidates in classrooms for student teaching is a complex process, necessitating finding appropriate schools and grade levels to fulfill certification and degree requirements. Considerable time is also required to ensure that each candidate will be placed in the most suitable seminar group.
Therefore, candidates for student/supervised teaching in Fall semester must meet first with the Associate Dean of Undergraduate Advising and secondly with the Office of Field Placement by March 15 of the preceding Spring semester. Candidates for student/supervised teaching in Spring semester must meet first with the Associate Dean of Undergraduate Advising and secondly with the Office of Field Placement by October 15 of the preceding Fall. Students who do not meet these deadlines must postpone student teaching.
Senior Start Program
Through this program, Mville students with a GPA of 3.2 or better can take up to 9 graduate education credits during their senior year – credits that apply to both the undergraduate and graduate degrees. Since there are two prerequisites for the graduate education courses (EDU 2000 and SSE 2025, PSY 2001 or PSY 2002), current non-Education students considering teaching careers are encouraged to plan one or both of these prerequisites before their senior year. They should also meet with Dr. Ferrara, the Undergraduate Education Advisor, (ext. 5180) for approval.